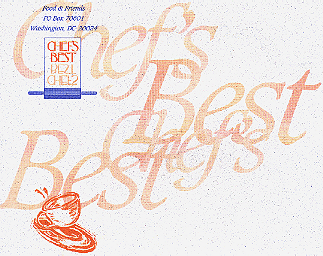 ---
FOOD & FRIENDS AND 60 PREMIERE DC CHEFS
COME TOGETHER TO RAISE MONEY TO FIGHT AIDS AT

David Hagedorn Describes the Event and its Founding:
---
---
It started in 1991 with a handful of chefs, about 220 attendees, and it ended up raising a healthy $45,000 to feed homebound people with AIDS. This year, Food & Friends came together on Monday, May 15, 1995, to present the fifth annual "CHEF'S BEST", which has become the food event of the year. Chef's Best combined a terrific gourmet food buffet, an open bar, with silent and live auctions and 1,400 attendees to raise an estimated $350,000.

The money raised on this one night at Chef's Best will help Food & Friends prepare and deliver --at no cost to the recipients-- 400,000 hot, nutritious meals to homebound individuals and families living with AIDS in 1995. Food & Friends is a 501 (c)(3) organization.

Food & Friends' meals are designed to meet the special dietary requirements of people living with the HIV disease. Along with the meals come human warmth and the compassion of a volunteer's daily visit.

At this year's Chef's Best, each chef presented a fantastic dish at the gala (at $150 per person) which was held at the Washington Hilton's Grand Ballroom. Many, in fact, unveiled new dishes which may become Washington standards. Under the guidance of Chef's Best creator and dedicated Event Chair, David Hagedorn, Owner and Executive Chef at Trumpets, this event has come to be one of the most spectacular in the nation's capitol. Hagedorn was joined this year -- as he has been for the past five years -- by some of the chefs who helped originate the annual event: Roberto Donna, Jean-Louis Palladin, and Francesco Ricchi.

Other chefs included Food & Friends chef, David Smith; Dennis Marcinik of the Metro Center Grille; Andrew Roche who's making a name for himself at the Jefferson Hotel; Karen Ryan of the Tabard Inn; Melissa Ballinger from Clyde's; Jeff Shively from the Hotel Lombardy; Greggory Hill from Gabriel; Brian McBride from Melrose at the Park Hyatt; and John Gouldin from The Occidental.

Besides the sumptuous dishes , Chef's Best auctioned off many items including the following:
"Manon in the Spring ... or Fall" - a week's stay at a country house in Provence
"Aloha Means I Love You" - a romantic vacation for two in Hawaii
"Here to Stay ... in Washington" - tickets for 40 to the play "Here to Stay" plus reception
"Dinner with the Boys" - a fabulous dinner out with Chefs Jean Louis Palladin, Francesco Ricchi and Roberto Donna
"Ride 'em Cowboy" - Alison Swope from Santa Fe East gives home cooking lessons for eight
"In the Kitchen with Nora" - Chef Nora Pouillon treats the winning bid to chef's table action in her kitchen
Perhaps the best thing about Chef's Best is that all proceeds go directly to Food & Friends. All the chefs donated their time and dishes; flowers and beverages were donated by major companies; entertainment was donated; the Washington Hilton donated use of the Ballroom and supplied a table with its own chefs. Other major underwriters included Tom Goodwin, Goodwin & Company; Miller Brewing Company; Ogilvy, Adams & Rhinehart; Proskauer Rose Goetz & Mendelsohn; Joseph E. Seagram & Sons, Inc.; and Atlantic Food Services.
---
This broadcast of Chef's Best is made possible by the sponsors of the Internet Multicasting Service.
---
---