---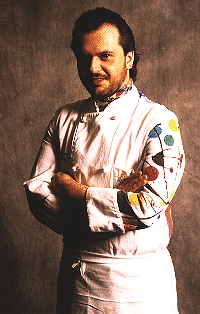 Greggory Hill
---
Greggory Hill from Gabriel prepared the "Seared Salmon Wrapped with Serrano Ham, Topped with Saffron-Oregano Salsa".
---
FOR MORE INFORMATION ABOUT FOOD & FRIENDS, WRITE :
P.O. BOX 70601, WASHINGTON, DC 20024;
PHONE 202/ 488-8276;
FAX 202/863-1284; TDD 202/554-2944.
---
This broadcast of Chef's Best is made possible by the Internet Multicasting Service and our sponsors.
---
---