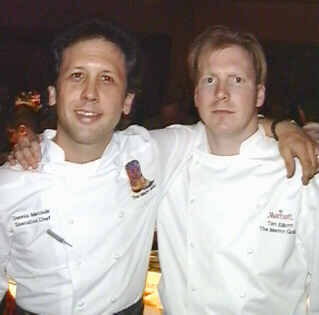 ---
Dennis Marcinik
---


Dennis Marcinik (on the left) from Metro Center Grill prepared the "Smoked Salmon and Lump Crabmeat Terrine with Chive Oil ".

.au file (1.5 Mb), .gsm file (315 Kb), .ra file (190 Kb)
---

FOR MORE INFORMATION ABOUT FOOD & FRIENDS, WRITE :
P.O. BOX 70601, WASHINGTON, DC 20024;
PHONE 202/ 488-8276;
FAX 202/863-1284; TDD 202/554-2944.
---
This broadcast of Chef's Best is made possible by the Internet Multicasting Service and our sponsors.
---
---