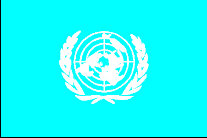 United Nations' 50th Anniversary
Closing Ceremony
San Francisco Opera House
10 am, June 26, 1995
---
---
Fifty years ago, world leaders gathered in the San Francisco Opera House to sign the Charter of the United Nations. Today, U.S. President Clinton, Secretary General Boutros-Ghali, and Poet Maya Angelou commemorate the 1945 signing of this historic document.
This ceremony is a time to look back at the accomplishments of fifty years, but it also a time to look forward. The United Nations is a place of assembly, a place where the nations of the world can communicate with each other. The United channels of communications are essential to reach out to the widest possible audience in all kinds of channels for peace to prevail and for progress to continue.
At the invitation of the United Nations, today's closing ceremony was sent out as live audio and video using the multicast backbone, an advanced portion of the Internet. If you do not have access to the MBONE, do not despair as the Internet Multicasting Service is committed to the principle that these bits should be available in a multicultural, multiprotocol format suitable to the principle of world peace through better communications.
---
Sponsors of this Multicast
Support for the live multicast of the closing ceremony is provided by the sponsors of the Internet Multicasting Service with special help from:
---
Related Information
---
---