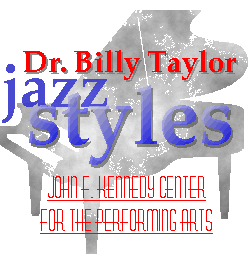 Excerpts from Billy Taylor's lectures at the Kennedy Center.
---
What is BEBOP?
In the 1940s and into the 1950s a wave of energetic, exciting performers captured the imagination of jazz lovers. Perfomers like Dizzy Gillespie, Charlie Parker, and Thelonious "Sphere" Monk spearheaded this revolution, but like all movements in the arts, there were many lesser known artists involved as well. Bebop jazz was usually performed in small groups and featured extended improvisation. Tempos were often fast and the small groups facilitated a freedom of expression difficult in the big bands of the swing era. Today, many of the best young jazz artists are seeking inspiration in the urbane, powerful, and harmonically inventive sounds of bebop.
---
Mike Janssen's article The Influence of Jazz on the Beat Generation presents one writer's perspective on the influence of bebop on the wider culture of the 20th century. As always, users are cautioned that this article convey's Janssen's views and opinions, and not those of Dr. Taylor. ed.
---
---