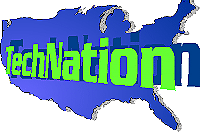 Los Angeles in the Roaring 20's
---
In this TechNation, Moira speaks with JULES TYGIEL, a professor of History at San Francisco State University. They discuss the role which technology played in transforming a sleepy little town into what became the first modern American city: Los Angeles. We see the vast effects of outrageous stock offerings and financial debacles played against public opinion which was swayed by the first available tabloids and radio evangelists.
Moira also speaks with ARTIS WODEHOUSE, a pianist and Gershwin scholar, who has studied the piano rolls of George Gershwin under a grant from the National Endowment for the Humanities. They discuss how she converted some 65 of the 130 Gershwin rolls known to be in existence into today's technology. They discuss the technology of the early player pianos, and how the rolls were translated into notation which could be played by a Yamaha Disklavier piano. The hi-tech piano and selections from "GERSHWIN PLAYS GERSHWIN" are played.
Tapes, transcripts, and more information on TechNation is available by calling technation@aol.com or by sending e-mail to technation@usfca.edu.
Rebroadcast of TechNation is made possible by the Internet Multicasting Service and our sponsors.
---

.au format (27.6 Mb), .gsm format (5.6 Mb), .ra format (3.6 Mb)
---
---