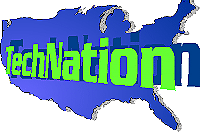 "Computer Life"/CD-ROMS
---
John Dickinson, Editor-in-Chief of "Computer Life", and Ruth Stevens, Vice President, Ziff-Davis Consumer Media Group. They discuss the work that went into this new technical consumer magazine. They discuss how personal computers have become mainstream in our lives, not just in our offices, but also in our homes and when we travel. They discuss the focus groups, their new on-line bulletin board, and the profile of their initial 300,000 subscriptions which arrived before the first issue was published.
Moira also speaks with Barry Cinnamon, President and CEO of Allegra New Media, a leading producer of CD-ROMs. We're used to CD's in terms of music, but they are fast exploding as a source of information and programs. We talk about Allegra's new CD's offering of John Dvorak teaching you about Windows and we take a fresh look at President Clinton's Health Policy/Plan.
Tapes, transcripts, and more information on TechNation is available by calling technation@aol.com or by sending e-mail to technation@usfca.edu.
Rebroadcast of TechNation is made possible by the Internet Multicasting Service and our sponsors.
---

.au format (27.6 Mb), .gsm format (5.6 Mb), .ra format (3.6 Mb)
---
---