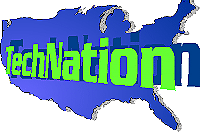 Toxic Nation/Wireless Communications
---
Dr. Moira Gunn speaks with Fred Setterberg and Lonny Shavelson, authors of the book "Toxic Nation ... The Fight to Save Our Communities from Chemical Contamination." Together, Setterberg and Shavelson spent 3 years speaking with communities across the United States on their experimence with their problems with toxic waste and environmental chemicals. From the Amish of Pennsylvania to the mountains of Appalachia to the farming communities of California's Central Valley, the experience of families and entire towns have begun to coalesce into a nationwide grass roots movement. The authors discuss the effects of the post- World War II introduction of some 65,000 petrochemicals into the American landscape.
Moira also speaks with Charlie Nahabedian, Vice President for RAM Mobile Data, a leading supplier of wireless communications.
Tapes, transcripts, and more information on TechNation is available by calling technation@aol.com or by sending e-mail to technation@usfca.edu. Rebroadcast of TechNation is made possible by the sponsors of the Internet Multicasting Service.
---
---
---