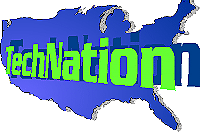 Entrepreneurs & Inventors
---
Dr. Moira Gunn speaks with talks to Robert Gilbreath, CEO of the London-headquartered international consulting firm of Proudfoot Change Management. They discuss how organizations must be prepared for change, as well as the "parables" in Gilbreath's new book, "Escape from Management Hell."
Moira also speaks with James Fergason, inventor of the LCD. He discusses the problems of turning inventions into patents and patents into profits. Fergason has just been awarded his 90th patent.
Tapes, transcripts, and more information on TechNation is available by calling technation@aol.com or by sending e-mail to technation@usfca.edu. Rebroadcast of TechNation is made possible by the sponsors of the Internet Multicasting Service.
---
---
---