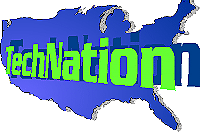 Science is *NOT* Funny
---
Dr. Moira Gunn sets out to prove a theory of hers: "Science isn't funny." OK, so scientists aren't supposed to start out with an expected result, but she's only human. First, she speaks with American Public Radio's Scientist Emeritus, Dan Coffey, better known as Dr. Science. Dr. Science has a degree in science from a real university!
Just in case you've lost all sense of humor, Moira speaks with St. Silicon, known to the Internal Revenue Service as Jeffrey Armstrong. Is that really a blinking computer chip on his forehead?
Tapes, transcripts, and more information on TechNation is available by calling technation@aol.com or by sending e-mail to technation@usfca.edu. Rebroadcast of TechNation is made possible by the sponsors of the Internet Multicasting Service.
---
---
---