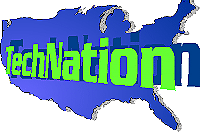 Satellites
---
It's interesting to talk about new technologies bursting on the scene, but do we realize that we must think about technology and its impact on our lives? Can we learn about how technology affects us by looking at other societies? Dr. Moira Gunn interviews JERRY MANDER, a Senior Fellow at the nation's only not-for-profit advertising agency, the Public Media Center, and the author of the book "In the Absence of the Sacred: The Failure of Technology and the Survival of the Indian Nations."
In the second half, Moira interviews FRED DAVIS. You've heard him before on Public Radio ... on "All Things Considered" and Dvorak's "Software/Hard Talk." With extensive background in computers and machines that use DOS, FRED DAVIS has been Editor-in-Chief of a number of noted personal computer magazines, including MacUser. Fred's most recent book is "The Windows 3.1 Bible." He speaks with Moira about his perspective on computers.
Tapes, transcripts, and more information on TechNation is available by calling technation@aol.com or by sending e-mail to technation@usfca.edu. Rebroadcast of TechNation is made possible by the sponsors of the Internet Multicasting Service.
---
---