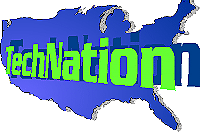 Internet Radio and "Wired" Magazine
---
On this week's "TechNation ... Americans & Technology," hosted by Dr. Moira Gunn:
Dr. Gunn interviews CARL MALAMUD, author of numerous books, including "Exploring the Internet," and creator of the first weekly, commercial digital radio show, "Internet Talk Radio." Malamud talks about how his program came to be, how it is meant to be accessed over the Internet and transferred as data to your personal computer, where you actually play all or part of it in any order.
In our second half, Dr. Gunn interviews JANE METCALFE, President of "Wired" magazine and LOUIS ROSSETTO, Editor and Publisher of "Wired." They discuss how "Wired" is different from its predecessors, addressing the complete societal impact of technology and its latest breakthroughs. Other topics include the phenomenal success of "Wired"'s premier issue and why the BBC is "wired" while National Public Radio is "tired."
Tapes, transcripts, and more information on TechNation is available by calling technation@aol.com or by sending e-mail to technation@usfca.edu. Rebroadcast of TechNation is made possible by the sponsors of the Internet Multicasting Service.
---
---
---