Even as a child Mark Miller was strongly attracted to foods with bold flavors, a wide variety of textures, and a whole world of origins.

Growing up in Maryland, he recalls a wealth of experiences with food. Summers on his uncle's oyster farm in Chesapeake Bay, watching his mother cook--and making suggestions. His parents' cosmopolitan social life took him to dinners at homes still steeped in ethnic traditions. Whether Russian, Mexican, or French, these meals weren't toying with world cuisines, they were authentic home cooking.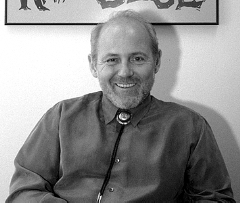 Miller thought he found his life calling when he saw an exhibit of Arnhem Land bark painting.

Despite his family's almost weekly trips to the Peabody Museum, he found he was more interested in "primitive art" than in European Classicism. The art of traditional societies drew him in with its energy and spiritual expressiveness. He studied cultural anthropology at the University of California at Berkeley. While a student there, he faced the ugly prospect of life away from home and a diet of hamburgers and french fries. He started to learn cooking.
By 1974 he was writing a newsletter, called "The Market Basket", featuring articles about foods such as vinegar and tofu--subjects which at the time were not well known or understood by Americans. Then Miller started working at Chez Pannise restaurant, where the menu changed daily. Faced with preparing over five hundred different dishes in a year he learned to trust his own perceptions to achieve success.

But he also found he enjoyed the life style of fine restaurants, and found that there was plenty of opportunity to be involved in teaching, if not with books, then with the palates of his clients.



---