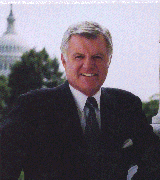 ---
Senator Edward M. Kennedy, D-Massachusetts
---
Born in Boston, Massachusetts on February 22, 1932, Senator Edward M. Kennedy is the youngest of nine children of Joseph P. and Rose Fitzgerald Kennedy. He attended the Milton Academy, and received a B.A. from Harvard in 1956. He attended the International Law School at The Hague, The Netherlands in 1958 and received his LL.B. from the University of Virginia Law School in 1959.
Mr. Kennedy, an Army veteran who served in France and Germany (1951-53), was elected to The U.S. Senate on November, 1962 to complete the term of his brother, President John F. Kennedy. He has been reelected to full six year terms each time since then. As the Senator who is 4th in seniority, he serves as the Ranking Democrat on the Labor and Human Resources Committee, with membership in the Subcommittee on Disability Policy and the Subcommittee on Edudation, Arts, and Humanities; the Judiciary Committee, with membership in the Subcommittees on Immigration and on the Constitution, Federalism and Property Rights; the Armed Services Committee, with membership on the Subcommittee on Seapower, the Subcommittee on Personnel, and the Subcommittee on Acquisition and Technology; and the Joint Economic Committee.
Senator Kennedy's other activities include Vice Chairman of the Congressional Technology Assessment Board, membership in the Congressional Friends of Ireland, the Senate Arms Control Observer Group, the Martin Luther King, Jr. Federal Holiday Commission and trustee for the John F. Kennedy Center for the Performing Arts.
He is married to the former Victoria Reggie and the couple has five children.
---
---