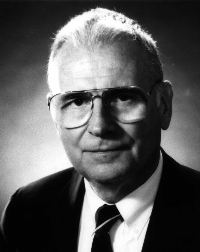 ---
Congressman Lee H. Hamilton, D-Indiana
---
Congressman Lee H. Hamilton has represented the 9th District of Indiana in Congress since January, 1965. He was born in Daytona Beach, Florida on April 20, 1931 and graduated from Central High School in Evansville, Indiana in 1948. Mr. Hamilton received his B.A. degree from DePauw University, where he was named Outstanding Senior and was an honor graduate, in 1952. He also attended Goethe University in Frankfurt, Germany (1952-53) and received his J.D. from the Indiana University School of Law in 1956.
As the senior member of the Indiana Congressional delegation, Mr. Hamilton is a former member, Chairman, of the House Permanent Select Committee on Intelligence; the Post Office and Civil Serivce Committee, and the Standards of Official Conduct Committee. Congressman Hamilton has held leadership positions and caucus memberships with the Congressional Clearinghouse on the Future, the Congressional Fire Services Caucus, and the Environmental & Energy Study Conference. He now serves on the House International Relations Committee and the Joint Economic Committee. He has also served as an executive committee member, Congressional Delegation the U.S. Group of the Interparliamentary Union.
A lawyer with honorary degrees from Depauw University and Hanover Collge, he was named to the Indiana Basketball Hall of Fame in 1982. He and his wife, the former Nancy Ann Nelson, have three children.
---
---