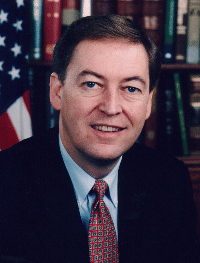 ---
Senator Rod Grams, R-Minnesota
---
Senator Rod Grams was sworn in as a member of the 104th Congress on January 4, 1995. A champion of taxpayers and the middle class, Grams won election to the U.S. Senate after a campaign which focused attention on the issues Minnesotans considered most critical: cutting taxes, controlling government spending, and ensuring safety against crime and criminals.
Grams serves on the Senate Committee on Banking, Housing and Urban Affairs; the Senate Committee on Energy and Natural Resources; the Senate Committee on Foreign Relations; and the Joint Economic Committee. In addition, he was named to serve on the Senate's Task Forces on Term Limits, Unfunded Mandates, Balanced Budget Amendment, and was appointed by the Majority Leader to the Working Group on Entitlements.
Prior to his election to the U.S. Senate, Grams was elected in 1992 to represent Minnesota's Sixth District in Congress. Grams was also elected by his freshman Republican colleagues to serve as freshman Republican Whip for the 103rd Congress.
Grams spent 23 years in television and radio broadcasting before his political service. Before that, he worked seven years for an engineering consulting firm. In 1985, he formed and became President and Ceo of Sun Ridge Builders, a construction and residential development company.
Grams was born February 4, 1948, in Princeton, Minnesota, and was raised on a dairy farm about 50 miles north of the Twin Cities. He attended St. Francis High School in Anoka County, Anoka- Ramsey Junior college, Brown Institute in Minneapolis and Carroll College in Helena, Montana. Senator Grams and his wife Laurell have four children and three grandchildren.
---
---