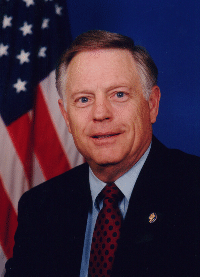 ---
Congressman Thomas W. Ewing, R-Illinois
---
Thomas W. Ewing was elected to the United States Congress on July 2, 1991, in a special election to complete the unexpired term of Edward Madigan. He was re-elected in 1992 and 1994. He currently serves on the House Committee on Agriculture and the House Committee on Transportation and Infrastructure. Congressman Ewing is the Chairman of the House Subcommittee on Risk Management and Specialty Crops. In addition, he serves on the Department Operations, and the Nutrition and Foreign Agriculture subcommittees. Under the Transportation and Infrastructure Committee, he serves on the Aviation, and Water Resources and Environment subcommittees.
In January, 1995, he was named a Deputy Whip of the U.S. House for the Republican Party. He is chairman of the Conservative Opportunity Society, a Congressional organization that researches and supports issues that positively impact the free enterprise system. In addition, he is Chairman of the Congressional Rural Caucus and a member of the Joint Economic Committee.
Before his election to Congress, Mr. Ewing served 17 years in the Illinois House of Representatives, where he was Assistant Republican Minority Leader from 1982 - 90 and Deputy Minority Leader in 1990. Congressman Ewing was named "National Legislator of the Year" by the National Republican Legislators Association in 1988.
Congressman Ewing was born September 19, 1935, and was raised in Atlanta, Illinois. He attended public schools and graduated, in 1957, from Millikin University with a B.S. in Business Administration. He received his Juris Doctorate from John Marshall Law School in Chicago in 1968. He is a farm owner and businessman. He and his wife, Connie, are the parents of six children.
---
---