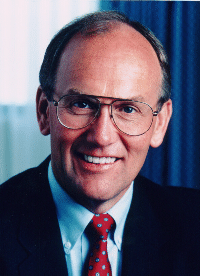 ---
Senator Larry Craig, R-Idaho
---
Senator Larry Craig, a Republican from Midvale, Idaho, was born July 20, 1945, in Council, Idaho, where he attended public schools. He was a national vice president of Future Farmers of America from 1966 to 1967. He graduated from the University of Idaho with a B.A. in political science. While at the University, he was student body bgcolor="#FFFFFF" president, 1968-69. He did graduate work in economics and politics of developing nations at the George Washington University in Washington, D.C. in 1970.
As a farmer-rancher, he was also a state senator for Payette and Washington Counties for three terms before becoming chairman of the State Senate Committee on Commerce and Labor, a member of the National Executive Committee (1976 -78), president of the Young Republican League of Idaho (1976-77) and Chairman of the Republican Central Committee of Washington County from (1971 -72).
Mr. Craig was elected to the U.S. House of Representatives from 1980 to 1990, when he was elected to the U.S. Senate to succeed retiring Senator James McClure. His Senate duties include membership on the Senate Agriculture, Nutrition and Forestry Committee; the Subcommittee on Forestry Conservation and Rural Revitalization; and the Subcommittee on Research, Nutrition and General Legislation. He also serves on the Senate Veterans Affairs Committee; the Senate Select Committee on Ethics; the Senate Special Committee on Aging; the Joint Economic Committee; and the Senate Energy and Natural Resources Committee, where he serves on the Subcommittee on Energy Research and Development and the Subcommittee on Forests and Public Land Management. His leadership positions and Caucus memberships have included the Congressional Clearinghouse on the Future, the Congressional Fire Services Caucus, the Senate Beef Caucus and the Senate Grace Caucus.
He is married to the former Suzanne Scott.
---
---