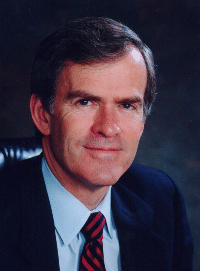 ---
Senator Jeff Bingaman, D-NM
---
Jeff Bingaman was born in El Paso, Texas, on October 3, 1943. He was raised in Silver City, New Mexico and received his B.A. degree in government from Harvard College in 1965. He graduated Stanford Law School in 1968 and served in the U.S. Army Reserve from 1968 to 1974.
Bingaman was elected to the United States Senate in November, 1982 for a six-year term. He was reelected for another term in November, 1989 and was reelected in each succeeding Congress. Before coming to Washington, he served as assistant New Mexico attorney general in 1969, as counsel to the State Constitutional convention. He entered private practice with the firm of Stephenson, Campbell & Olmstead from 1971 to 72, started his own law firm of Campbell & Bingaman in 1973, and served as New Mexico's attorney general from 1979-82.
He has held important leadership positions and caucus memberships on Capitol Hill. They include the Congressional Arts Caucus; the Congressional Competitiveness Caucus; the Congressional Fire Services Caucus; the Congressional Friends of Human Rights Monitors; the Environmental & Energy Study Conference; the Senate Beef Caucus; and the Senate Rural Health Caucus. He is also a member of the Senate Armed Services Committee; the Senate Energy and Natural Resources Committee, where he served on the Subcommittee on Energy Production and Regulation and the Subcommittee on Forests and Public Land management; and the Joint Economic Committee.
A Methodist, Bingaman is married to the former Anne Kovacovich. They have one son, John.
---
---