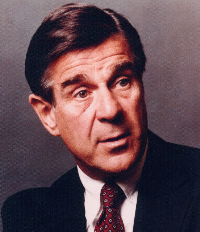 ---
Congressman Fortney H. (Pete) Stark, Jr., D-California
---
Fortney H. (Pete) Stark, Jr. ws born in Milwaukee, Wisconsin on November 11, 1931. He graduated from Wauwatosa High School before attending the Massachusetts Institute of Technology and earning his B.S. degree in 1953. He then moved to the University of California, Berkeley, where he earned an M.B.A. in 1960. He received an honorary G.E.D. degree from the East Bay Skills Center in 1972, served as a captain in the U.S. Air Force (1955-57), and was founder and president of Security National Bank in Walnut Creek, CA, 1963-72. Mr. Stark was chairman of the Board of Trustees for the Starr King School for the Ministry in Berkeley; trustee, Graduate Theological Union, Berkeley; sponsor of the Northern California American Civil Liberties Union and director of Common Cause, 1971-72.
Mr. Stark was first sworn into the U.S. House of Representatives in January, 1973, representing the 13th District of California. He is now in his twelfth term as a Congressman. He serves on the House Ways and Means Committee and its Subcommittee on Health, as well as the Joint Economic Committee. His membership list includes the Arms Control & Foreign Policy Caucus, the Congressional Fire Services Caucus, the Congressional Friends of Human Rights Monitors, the Congressional Urban Caucus, the Environmental & Energy Study Conference and the Friends of Ireland Congressional Committee.
Representative Stark and his wife, Deborah, have four children.
---
---