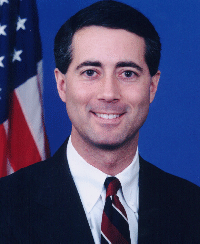 ---
Congressman Mac Thornberry, R-Texas
---
First elected to the United States Congress in November, 1994, William "Mac" Thornberry represents the 13th Congressional District in Texas. He was born in Clarendon, Texas on July 15, 1958 and attended public schools there. He also attended Texas Tech University, where he earned a B.A. degree (summa cum laude) in history. Mr. Thornberry went to the University of Texas School of Law where he earned his J.D. degree.
"Mac" Thornberry served as Legislative Counsel to U.S. Representative Tom Loeffler of Texas (1983-85); as Chief of Staff to U.S. Representative Larry Combest of Texas (1985-88). He was appointed Deputy Assistant Secretary of State for Legislative Afairs (1988-89), and from 1989 to the present, he served as the defense litigation attorney for the Amarillo firm of Peterson, Farris, Doores & Jones. He was elected to the State Republican Executive Committee in 1990, and was elected to the 104th Congress in 1994.
Congressman Thornberry serves on the House National Security Committee; the Subcommittee on Personnel; the Subcommittee on Military Procurement; the House Resources Committee; the Subcommittee on Energy and Mineral Resources; the Subcommittee on Water and Power Resources; and the Joint Economic Committee.
He and his wife, Sally, have two children.
---
---