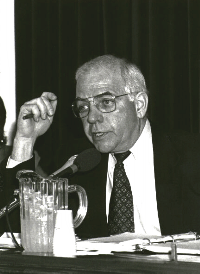 ---
Congressman H. James Saxton, R-New Jersey
---
H. James (Jim) Saxton was born in Nicholson, Pennsylvania on January 22, 1943. He attended public school in Factoryville, Pennsylvania. Mr. Saxton received his B.A. in education from East Stroudsburg State College in 1965, did graduate work in elementary education at Temple University in Philadelphia in 1968, and taught in the public schools from 1965 - 68. He was the owner of Jim Saxton Realty Company, from 1968-85.
Mr. Saxton was elected to and served in the New Jersey General Assembly from 1976-81; in the State Senate from 1982-84, and also served as chairman of the State Republican Platform Committee. His civic memberships include the Chamber of Commerce, the Elks, the Association of the U.S. Air Force, the Leadership Foundation of New Jersey, the Boy Scouts of America, Rotary International, and the American Cancer Committee, of which he was chairman
The 3rd District of New Jersey elected Mr. Saxton to the U.S. House of Representatives in November, 1984, and he has been reelected to each succeeding Congress. In the House, he serves on the National Security Committee and its subcommittees on Military Installations and Facilities and on Military Procurement. He is a member of the House Resources Committee's Subcommittee on Fisheries, Wildlife and Oceans, and he sits on the Joint Economic Committee. Mr. Saxton belongs to a number of caucuses in the House, including the Congressional Competitiveness Caucus, the Congressional Fire Services Caucus, the Congressional Human Rights Caucus, the Congressional Insurance Caucus, the Congressional Notch Coalition, the Congressional Travel and Tourism Caucus, the Environmental & Energy Study Conference, the Federal Government Service Task Force and the North East Agriculture Caucus.
Congressman Saxton is married to the former Helen J. Gadomski and they have two children.
---
---