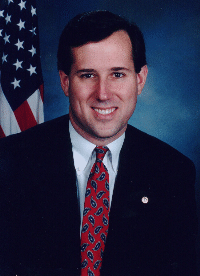 ---
Senator Rick Santorum, R-Pennsylvania
---
Rick Santorum was born on May, 10, 1958 in Winchester, Virginia. His family later relocated to Butler, Pennsylvania where Santorum graduated high school and went on to Penn State University to receive a BA in political science in 1980. He earned an MBA from the University of Pittsburgh and a law degree from the Dickinson School of Law in 1986.
While working as Administrative Assistant to Pennsylvania State Senator J. Doyule Corman from 1981-1986, he served as Executive Director of the Senate Transportation Committee and the Senate Local Government Committee. From 1986 - 1990, he worked as an associate attorney for the firm of Kirkpatrick and Lockhard, taking a leave in 1990 to run and win an election for Congress from Pennsylvania's 18th District.
In 1992, the 18th District was redistricted, but Santorum won reelection and returned to Congress to take a seat on the House Ways and Means Committee and to serve as the Ranking Minority Member on the Subcommittee on Human Resources and on the Subcommittee on Oversight. He also served chairman of the House Republican Task Force on Welfare Reform.
In 1994, Mr. Santorum was elected to the United States Senate and accepted assignments to the Armed Services Committee; the Agriculture Committee; the Rules Committee; the Joint Economic Committee; and the Aging Committee.
Mr. Santorum and his wife, the former Karen Garver, have two children.
---
---