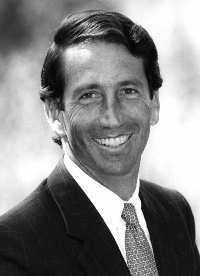 ---
Congressman Mark Sanford, R-South Carolina
---
Marshall "Mark" Sanford was born in 1960 and grew up on a family farm not far from Beaufort, South Carolina. After attending high school in Beaufort, he graduated from Furman University in 1983 and, in 1988, from the University of Virginia's Darden School of Business where he earned a Masters in Business degree. For the past ten years, he worked in real estate finance and investment in New York and Charleston.
Mr. Sanford was first elected to the Senate in November, 1994. He serves on the Joint Economic Committee as well as on the Government Reform and Oversight Committee. His subcommittee assignments include the Subcommittee on Africa and the Subcommittee on Asia and the Pacific. At the International Relations Committee, he serves on two Subcommittees, on Human Resources and Intergovernment Affairs, and on Postal Service.
Mr. Sanford and his wife Jenny have two sons.
---
---