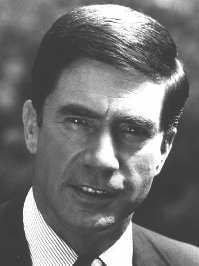 ---
Senator Charles Robb, D-Virginia
---
Charles S. Robb of McClean, Virginia, was born June 26, 1939. He graduated the University of Wisconsin with a BBA and served in the U.S. Marine Corps from 1961 to 1979. He studied law at the University of Virginia and received his degree in 1973, followed by a judicial clerkship at the U.S. Court of Appeals in Richmond, VA (l973 - 74). Mr. Robb was elected Lieutenant Governor of Virginia (l978 - 1982) and Governor of Virginia from 1982 to 1986. While Lieutenant Governor, Mr. Robb was chairman of the National Conference of Lieutenant Governors and the Virginia Forum on Education, and he led a bi-partisan delegation to the People's Republic of China for the National Council of Young Political Leaders. As Governor, he served as Chairman of the Southern Governors' Association, the Democratic Governors' Association, the Educational Commission of the States, the National Governors' Association Standing Committee on Criminal Justice and Public Protection, as President of the Council of State Governments, the Hudson Center on Education and Employment Policy, as Vice Chairman of Jobs for America's Graduates, Inc., and as a member of the Executive Committee of the National Governors' Association, among many others.
Senator Robb is the recipient of the l986 Henry M. Jackson Friend of Freedom Award, the 1987 recipient of the National Brotherhood Citation from the National Conference of Christians and Jews; and the 1988 recipient of the Policy Leader of the Year Award from the National Association of State Boards of Education.
His first term in Congress began in January, 1989 and he has been reelected each time since. His Senatorial Committee assignments include the Senate Armed Services Committee; the Subcommittees on Personnel, on Readiness and on Seapower; the Senate Foreign Relations Committee and the subcommittees on East Asian and Pacific Affairs, the Subcommittee on Near Eastern and South Asian Affairs, and the Subcommittee on Western Hemisphere and Peace Corps Affairs; the Senate Select Committee on Intelligence; and the Joint Economic Committee. His other activities include serving as Deputy Whip, as Chairman of the Democratic Senatorial Campaign Committee, and as a member of the Congressional Arts Caucus, the Congressional Clearinghouse on the Future, the Congressional Competitiveness Caucus, the Congressional Fire Services Caucus, the Federal Government Service Task Force, the Senate Rural Health Caucus, the Democratic Policy Committee and the Environmental & Energy Study Conference.
He is married to the former Lynda Byrd Johnson; they have three daughters.
---
---