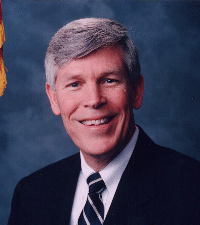 ---
Senator Connie Mack, R-Florida
---
United States Senator Connie Mack of Florida was sworn into office in January 1995 for his second term after becoming the first Republican in Florida history to be re-elected to the U.S. Senate. Mack received 70 per cent of the vote in 1994, more than any other Republican Senate candidate in the nation.
Mack was elected by his colleagues without opposition to serve in the Republican majority caucus as Conference Secretary, one of six leadership positions. Before his election to the Senate, he served three two year terms as a member of the House of Representatives from Southwest Florida. In April 1994, Mack was named by Campaigns and Elections magazine as one of the 20 most popular elected officials in America. As a House member, he was identified by U.S. News and World Report as one of the nation's most effective, "new rising political stars."
Senator Mack serves as chairman of a joint committee and two subcommittees. His assignments include:
Joint Economic Committee Chairman;
Appropriations -- Legislative Branch Subcommittee Chairman;
Banking, Housing and Urban Affairs -- Housing, Opportunity and Community Development Subcommittee Chairman;
Select Committee on Intelligence.
He has previously held assignments with the Armed Services and Foreign Relations Committees.

Born in Philadelphia, Pennsylvania, on October 29, 1940, Senator Mack was married in September, 1960, to the former Priscilla Hobbs, a native of Fort Myers where they now reside. They have two children and three grandchildren. He and his wife Priscilla, both cancer survivors, have been honored for their work with Florida and national cancer organizations, including the American Cancer Society for promoting the life-saving benefits of early cancer detection.
---
---