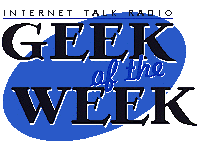 John Romkey
---
Carl Malamud interviews John Romkey, author of numerous protocol stacks and recently named to the cast of "IAB: The Next Generation." In this wide-ranging interview, Romkey talks about the role of security in the Internet, the PGP versus PEM controversy, and export control policies that leave RSA algorithms patented in the US but available for anonymous FTP in Finland. Romkey also discusses the role of SNMP in ToasterNet and we learn why his garage is full of burnt Eggos and how he incurred the wrath of the Waffle Union.

In this week's Ask Dr. SNMP, Dr. Jeff Case lets loose on a Journalist from Jupiter (aren't they all) and his inane inquiries about the future of SNMP Version 3.

This week, the Internet Multicasting Service is proud to present an exclusive interview with the author of the Generic Ultimate Protocol (GUP). GUP slices and dices at any layer of the protocol stack. This distinguished scientist, fearing the wrath of protocol designers around the world, has asked us to use a computer-synthesized version of his or her voice to protect his or her identity.

Geek of the Week is brought to you by the sponsors of the Internet Multicasting Service including O'Reilly & Associates and Sun Microsystems.
---
Part 1 .au file (5.2 Mb), .gsm file (1.1 Mb), .ra file (0.7 Mb)
Ask Dr. SNMP .au file (0.5 Mb), .gsm file (0.1 Mb), .ra file (70 Kb)
Part 2 .au file (5.3 Mb), .gsm file (1.1 Mb), .ra file (0.7 Mb)
Part 3 .au file (2.4 Mb), .gsm file (0.5 Mb), .ra file (0.3 Mb)
GUP the Wonder Protocol .au file (1.5 Mb), .gsm file (0.3 Mb), .ra file (0.2 Mb)
Part 4 .au file (5.9 Mb), .gsm file (1.2 Mb), .ra file (0.7 Mb)

---
---