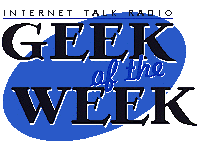 Dr. Marshall T. Rose
---
Geek of the Week: Dr. Marshall T. Rose
Wed, Mar 31, 1993 2:00 AM
Channel: Internet Talk Radio
Program: Geek of the Week
Release: March 31, 1993 (033193)
Program: Dr. Marshall T. Rose
On this week's "Geek of the Week," hosted by Carl Malamud:
Carl Malamud interviews Dr. Marshall T. Rose of Dover Beach Consulting. Dr. Rose is well-known in the Internet community for his long-term involvement with key technologies ranging from the MH mail handler to SNMP network management to the MIME multimedia messaging protocols. Dr. Rose is the author of the 4-volume trilogy containing classic works such as "The Open Book," "The Simple Book," and "The Little Black Book."
In this interview, Carl Malamud and Dr. Rose cover a wide range of topics, starting with the future of OSI and X.400 and moving on to issues such as the recent politics surrounding the government of the IETF as well as the rollout by Dr. Rose and his colleagues of SNMP version 2. With an opinion on most topics, Dr. Rose provides a lively and entertaining glimpse into the engineering and the politics of the Internet.
Also in this episode of Geek of the Week are three featurettes. The Incidental Tourist features restaurant reviews in Prague. Name that Acronym features an obscure and, for most engineers, arcane acronym to reverse engineer. Book Byte has a review of a recent book on administering X Windows.
Geek of the Week is supported by O'Reilly & Associates and by Sun Microsystems.
Part 1 .au file , .gsm file , .ra file
Part 2 .au file , .gsm file , .ra file
Part 3 .au file , .gsm file , .ra file
Part 4 .au file , .gsm file , .ra file
Part 5 .au file , .gsm file , .ra file
Part 6 .au file , .gsm file , .ra file
Part 7 .au file , .gsm file , .ra file

---
---