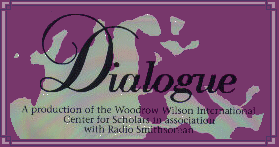 Churchill
---
Winston Churchill is for many the quintessential warrior statesman. His rhetoric and action led an empire in overcoming the darkest period in British history. Yet another side of Churchill was expressed in a constant search for a lasting peace. His peaceful vision, inspired by a Victorian conception of would order, had both anachronistic and far-seeing elements. James Muller discusses the less-considered Churchill as peacemaker.
Guest: James W. Muller, Professor Political Science, University of Alaska at Anchorage.
Dialogue is a production of the Woodrow Wilson International Center for Scholars in association with Radio Smithsonian. For a cassette copy of programs, listeners may call The Radio Store at 1-800-747-7444. You may also send your electronic mail comments to Denis Saulnier at WWCEM183@SIVM.SI.EDU
Rebroadcast of this program is made possible by the sponsors of the Internet Multicasting Service.
---
---