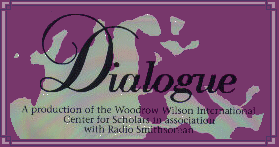 Foreign Policy: The Way Ahead
---
Momentous changes have taken place in the world. American foreign policy no longer has to contemplate a massive communist challenge, but it does have to face a world in radical disarray. Ambassador Max Kampelman suggests a focus on basic principles will provide the best foundation for a new foreign strategy. His argument encompasses current crises from Haiti to Bosnia.
Guest: Max Kampelman, former Chairman, United States Delegation to the Conference on Security and Cooperation in Europe.
Dialogue is a production of the Woodrow Wilson International Center for Scholars in association with Radio Smithsonian. For a cassette copy of programs, listeners may call The Radio Store at 1-800-747-7444. You may also send your electronic mail comments to Denis Saulnier at WWCEM183@SIVM.SI.EDU
Rebroadcast of this program is made possible by the sponsors of the Internet Multicasting Service.
---
---