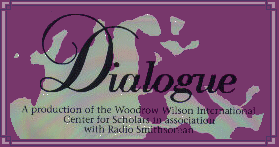 Evil
---
The ancient word "evil" has disappeared from modern debate over the flawed nature of man and the capacity for cruelty among humans. Yet events from Auschwitz to Rwanda are reminders that this is the bloodiest century in human history, a record underscored by the extraordinary rise in individual acts of hatred and violence throughout the civilized world. Walter Reich employs the moral precepts and religious sanctions associated with the concept of evil and the insights of psychiatry to consider the evil that men do.
Guest: Walter Reich, Senior Scholar and Director, Project on Health, Values and Public Policy, the Woodrow Wilson Center .
Dialogue is a production of the Woodrow Wilson International Center for Scholars in association with Radio Smithsonian. For a cassette copy of programs, listeners may call The Radio Store at 1-800-747-7444. You may also send your electronic mail comments to Denis Saulnier at WWCEM183@SIVM.SI.EDU
Rebroadcast of this program is made possible by the sponsors of the Internet Multicasting Service.
---
---