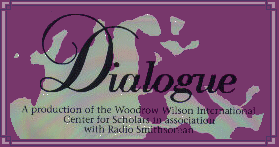 Hole in our Soul
---
Popular music in America is traditionally the artistic home of much of our national image. Today, however, there is a profound debate over the extent to which popular music reflects views and attitudes of wide appeal to a general audience. The extent to which aggression, misogyny, brutality, and obscenity are conveyed through lyric and rhythm are deeply disturbing. Martha Bayles, author of "Hole in our Soul: The Loss of Meaning in American Popular Music," charts the history of increasing decadence in the artistic and musical worlds. Her views describe the effect of perverse modernism on the Afro-American musical tradition.

Dialogue is a production of the Woodrow Wilson International Center for Scholars in association with Radio Smithsonian. For a cassette copy of programs, listeners may call The Radio Store at 1-800-747-7444. You may also send your electronic mail comments to Denis Saulnier at WWCEM183@SIVM.SI.EDU

Rebroadcast of this program is made possible by the sponsors of the Internet Multicasting Service.
---
---
---