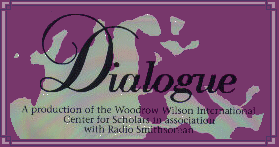 A Wonderous World: The Poetry of Patricia Goodrich
---
Poet Patricia Goodrich provides insights into poetry as an art form with special attention to the rich stimulation provided the poet by this "wonderous world." In addition to readings of her own poems, Ms. Goodrich offers views on the state of poetry in America, religion and the poet, and the particular gifts good poetry offers its readers.

Dialogue is a production of the Woodrow Wilson International Center for Scholars in association with Radio Smithsonian. For a cassette copy of programs, listeners may call The Radio Store at 1-800-747-7444. You may also send your electronic mail comments to Denis Saulnier at WWCEM183@SIVM.SI.EDU

Rebroadcast of this program is made possible by the sponsors of the Internet Multicasting Service.
---
---
---