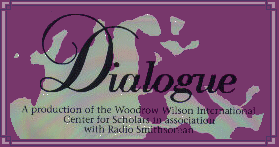 The Poetry of Ann Darr
---
Ann Darr, poet and adjunct professor at the American University, writes poetry rich with landscapes, people, passion, and the special meaning of her own history. Ms. Darr worked as a radio personality, an Air Force pilot, and instructor in creative writing, and brings this vast and multitextured experience to her award-winning poems.

Dialogue is a production of the Woodrow Wilson International Center for Scholars in association with Radio Smithsonian. For a cassette copy of programs, listeners may call The Radio Store at 1-800-747-7444. You may also send your electronic mail comments to Denis Saulnier at WWCEM183@SIVM.SI.EDU

Rebroadcast of this program is made possible by the sponsors of the Internet Multicasting Service.
---
---
---