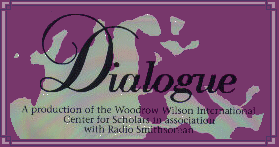 A Gathering of Heroes
---
There are a few moments in life when outside forces compel us to act bravely or flee ignominiously. the uncontrolled rage of a riot is such a circumstance. When Los Angeles erupted in the spring of 1992, only a fe individuals distinguished themselves for charity, generosity, and courage in the face of the carnage. Emmy award-winning actor Gregory Alan- Williams, author of "A Gathering of Heroes," was one of them. He tells his story on this edition of Dialogue.

Dialogue is a production of the Woodrow Wilson International Center for Scholars in association with Radio Smithsonian. For a cassette copy of programs, listeners may call The Radio Store at 1-800-747-7444. You may also send your electronic mail comments to Denis Saulnier at WWCEM183@SIVM.SI.EDU

Rebroadcast of this program is made possible by the sponsors of the Internet Multicasting Service.
---
---
---