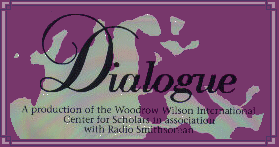 Paper Losses -- The Twenty-Five Year Struggle
---
Two newspapers -- the Detroit News and the Detroit Free Press -- battled for dominance for a quarter of a century. When The News succumbed to a takeover bid by Gannett News, the battle ended. The terms of that armistice pose their own questions. Journalist Bryan Gruley, Washington correspondent for the Detroit News and author of the book "Paper Losses," examines the legal and ethical aspects of corporate behavior and antitrust legislation raised in this controversy.

Dialogue is a production of the Woodrow Wilson International Center for Scholars in association with Radio Smithsonian. For a cassette copy of programs, listeners may call The Radio Store at 1-800-747-7444. You may also send your electronic mail comments to Denis Saulnier at WWCEM183@SIVM.SI.EDU

Rebroadcast of this program is made possible by the sponsors of the Internet Multicasting Service.
---
---
---