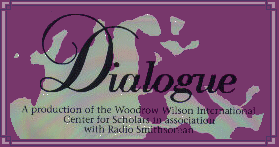 South Africa -- What the Election Meant
---
South Africans presented the world with a political miracle in the first all-race election ever held in that country. The event followed forty years of apartheid and five years of intense political debate. South African scholar Stephen R. Clingman, Associate Professor of English at the University of Massachusetts, analyzes the past and speculates on the future of this extraordinary transformation.

Dialogue is a production of the Woodrow Wilson International Center for Scholars in association with Radio Smithsonian. For a cassette copy of programs, listeners may call The Radio Store at 1-800-747-7444. You may also send your electronic mail comments to Denis Saulnier at WWCEM183@SIVM.SI.EDU

Rebroadcast of this program is made possible by the sponsors of the Internet Multicasting Service.
---
---
---