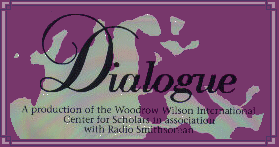 An Archaeology of Modern Virtue
---
In classical Greece and Rome the politics of friendship and family was ascendant. Today, the ideal form of civic conduct in liberal democracies emphasizes the impersonal. At some point in history our notion of civic nature changed.

Paul Rahe, Professor of History at the University of Tulsa, Oklahoma, argues that Niccolo Machiavelli was the political thinker whose work did most to alter thinking about civic virtue. He assesses the benefits and costs of our current political conception as he charts its historic development from the Enlightenment through Thomas Jefferson.

Dialogue is a production of the Woodrow Wilson International Center for Scholars in association with Radio Smithsonian. For a cassette copy of programs, listeners may call The Radio Store at 1-800-747-7444. You may also send your electronic mail comments to Denis Saulnier at WWCEM183@SIVM.SI.EDU

Rebroadcast of this program is made possible by the sponsors of the Internet Multicasting Service.
---
---
---