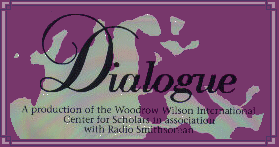 D.H. Lawrence: The Middle Years
---
D.H. Lawrence was precisely embroiled in disputes with censors. Both in his lifetime and today, he has been regarded as a celebration of sensuality. In large measure he was precisely that, but he also was much more. His sensuality had a religious cast; his novels were essentially explorations, as was his life. Mark Kinkead-Weekes explains the relations of his life and his ideas to the art of D.H. Lawrence.

George Seay interviews Mark Kinkead-Weekes, Professor Emeritus of English Literature, University of Kent at Canterbury, United Kingdom.

Dialogue is a production of the Woodrow Wilson International Center for Scholars in association with Radio Smithsonian. For a cassette copy of programs, listeners may call The Radio Store at 1-800-747-7444. You may also send your electronic mail comments to Denis Saulnier at WWCEM183@SIVM.SI.EDU

Rebroadcast of this program is made possible by the sponsors of the Internet Multicasting Service.
---
---
---