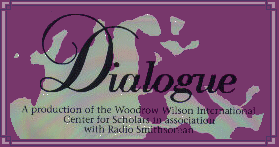 The Question of Kashmir
---
Regional conflicts are erupting in Africa, Asia, and Europe at an extraordinary rate. With nuclear arms now widely available, many of these wars have a potential for ultimate catastrophe. Sumit Ganguly explains how the conflict in Kashmir is dangerously symbolic of this new and complex form of warfare.

George Seay interviews Sumit Ganguly, Professor of Political Science, Hunter College, City University of New York

Dialogue is a production of the Woodrow Wilson International Center for Scholars in association with Radio Smithsonian. For a cassette copy of programs, listeners may call The Radio Store at 1-800-747-7444. You may also send your electronic mail comments to Denis Saulnier at WWCEM183@SIVM.SI.EDU

Rebroadcast of this program is made possible by the sponsors of the Internet Multicasting Service.
---
---
---