Return to the Showcase Directory
Go to the The Internet 1996 World Exposition Radio page
---
Young Artist Profile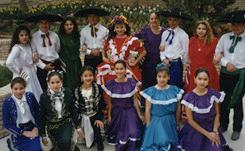 Hispanic Heritage of Odessa Performing Troupe, "Aviento Azteca"
Grades 5-12
Odessa, Texas
Go to the Audio & Video Clips
---
Return to the Showcase Directory
Hispanic Heritage of Odessa Performing Troupe
The Hispanic Heritage of Odessa strives to encourage and promote the hispanic agenda in the city of Odessa, Ector County, Texas, through cultural events and the promotion of the efforts by organizations and individuals preserving the hispanic agenda. Its endeavors include the preservation of the hispanic culture and heritage in young people through education in the performing and visual arts.

Hispanic Heritage of Odessa encourages and promotes the Hispanic culture in the Permian Basin through cultural development programs and activities that enhance the awareness of the hispanic heritage. We encourage participation from citizens of all ages in projects that promote art, history, and pride. The committee has been active for seven years and has produced an annual calendar of events that is scheduled to occur during the national Hispanic Heritage observance month. Our events are rich in cultural awareness and includes celebrating the existence of the following Hispanic groups and agendas:
Senior citizens, law enforcement, educators, artists, and area youth that perform in the arts.
Our calendar includes traditional events such as the "Cry of Independence" event ("El Grito de Dolores"), "Cinco de Mayo;" "Dies y Seis de Septiembre" fiestas ("Fiestas Patrias"). Our schedule includes dancing folklorico, singing mariachi music, performing historical skits, and displaying cultural art.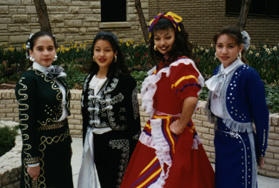 Aviento Azteca features four singers:









Viviana Solis is a sophomore at Odessa High School, Odessa, Texas. Viviana was selected the 1995 Poster Girl for the Hispanic Heritage Annual Poster. She is an honors student in the bilingual program at Odessa High School. She performs with the Pepe Franco Mariachi Band and has received awards for her performance in local talent competitions. She has performed live, on-stage with Fandango and other professional groups during their concerts. She has won numerous talent competitions, placing second in the Tejano Music Pageant for young girls.

Brandi Nicole Molinar is a 12 year old and began singing at the age of 7. She is enrolled in the Gifted and Talented Program at Ireland Elementary and has received numerous academic awards in their Honors Program and will participate in the Advanced Academic program at the Jr. High Level. She has received special recognition for her high TAAS (Texas Assessment of Academic Skills) scores in two consecutive years. She has been selected to participate in the Top Talent presentation for the area and placed in the top 3 for traditional singing competition out of a field of 40 contestants. She is a squad leader for the cheerleading team at her school.

Awards/Recognitions:
TAAS (Texas Assessment of Academic Skills) Academic Recognition - Spring 1994 - 4th grade

TAAS (Texas Assessment of Academic Skills) Academic Recognition - Spring 1995 - 5th grade

Honor Roll - 1995-1996 - 6th grade

Enrolled Advanced Academic Program Jr. High - 1996-97

3rd Place in Mariachi Contest - 1995
Rebecca Guerrero is the granddaughter of Mr. Sal Guerrero, a highly decorated veteran. She has done modeling and singing since the age of 7. A current eighth grader, Rebecca is 13 years old and has been selected to try out for movie productions.

Awards and Recognitions:
Modeling in Lulac since 5 years old until present, on the Fashion Board for Dillard's and Permian Mall.

1st Place: 1992-93 Gymnastics City Meet: Uneven Parallel Bars

1st Place: Gymnastics Zone Meet: All Around 1st Place and 1st Place: Balance Beam

Awarded Junior Achievement Business Basics in 1994

Awarded Reading and Writing Award in 1994

Awarded Trophy in singing

Awarded 1st Place Trophy in dance competition

A & B Honor Roll Student since the 1st grade continuing to the present
Nidia Selina Rocha is 17 years old and is currently a Junior at Odessa High School, Odessa, Texas. She is an honors student and will graduate with an advanced diploma next year. She has been a member of both the school and the church choir. She has studied guitar, flute, violin and drama and has participated in the ECISD Mariachi Band. She has studied under Mrs. Maria Mutis, a renowned orchestra director and has received a #1 UIL rating for her flute in the district band competition. She excels both in History and English and aspires to be a business major with focus on the international market. She has danced traditional numbers since 1st grade and is now concentrating on singing and recording traditional mariachi ballads.

Awards and Recognitions:
University Interscholastic League (UIL) Music Memory Contest/Blackshear Elementary Magnet School/1st Place-Perfect Score (5th grade)

UIL Jr. High Band Contest/Crockett Jr. High/Two Division Ones (9th grade)

Took advanced classes in English and History at Crockett Jr. High (7th grade). The school then began with teaming concept and quit offering advanced classes.

Recommended for Advanced Honors English class in Sophomore year

Enrolled Advanced Honors Spanish class in Sophomore year
Arts Education Background
Nidia has studied in private lessons for guitar, violin, and flute for two years. Nidia has also taken drama lessons at the Permian Playhouse for two years. At Odessa High School, Nidia sings with the top choral ensemble of the High School Choral Department. Before high school, Nidia attended the Elementary Magnet School at Blackshear in Odessa, Texas. There she sang with the choir for four years and became a vocal leader and eventually the choir president. While at Blackshear in the seventh grade, Nidia taught herself the flute accompaniment for "The Little Birch Tree" (arranged by Mary Goetze) and performed the accompaniment with the choir at the Odessa High School Fall Concert.
Arts and the Community
Nidia sings with her parish choir each Sunday and has performed in her church festival. In addition to singing with the choir, Nidia is a member of the parish youth organization and frequently assists at Mass as an altar server. In 1995, Nidia was chosen as a volunteer completing clerical duties for the Odessa Regional Hospital.

Nidia is a member of the Senoritas Hispanas, sponsored by KMRK, a bilingual radio station specializing in Tejano music. This group is led by Mujeres Hispanas, an affiliate of the Hispanic Heritage Committee in Odessa. The ladies' mission is "to provide educational programs consisting of a wide spectrum of topics to include health issues, information in accessing higher education, self enhancement, and issues pertaining to the Hispanic Culture ... to instill a sense of pride in our Hispanic Culture...." Senoritas Hispanas stresses community service.
---
Audio Clips will follow shortly
Return to the top
---